Shift-I – Shift Light
This model is now discontinued.  
The new Shift-P2 model is significantly easier to setup and use.

The Ecliptech Shift-I is a high reliability Progressive Shift Light
KNOW WHERE YOUR TORQUE IS…AND USE IT.
Track – Street – Trials – Autocross – Circuit – Drift – Rally – Drag
"It's worked brilliantly in my track car.
I'm pretty sure I've gained maybe ½ a second a lap from it, not to mention the benefit over a longer stint
due to a significant reduction in cockpit workload. Bloody good unit."

You probably don't use your existing tacho, which is not surprising given how difficult it is to see when you most need it. A good progressive RPM display can give you what you don't have… a gauge in your peripheral vision showing the range of RPM you're interested in! It gives you a reference for improving performance and building on skills. For example, maintaining staging RPM while concentrating on race start, smooth anticipated shift points and maintaining corner entry pace.

Benfits…
You get a smooth and consistent anticipation of your shift point.
It reduces driver workload and fatigue, both in sprint races and endurance events
It provides drivers with reference points for performance.
You get immediate feedback on cornering entry and exit RPM.
You can achieve consistent staging RPM for standing starts & launches – so no more watching the tacho on the start line!
In enduro events you can manage your fuel by short shifting at an indicated point below the peak RPM.
You can improve your lap time consistency and get up to speed at new tracks and with new suspension setups faster.
Eliminate unnecessary engine/transmission wear by keeping the RPM within the range you want, without bouncing off the limiter.
"I have to say the bottom line for me, is it very quickly has made my gear changes a lot smoother and easier on the engine….
I can see how its going to teach me to stop coasting on the track, a habit I have been trying to kick."

The Shift-I was designed from the ground up to be the most well thought out solution. Practical features and options that do the job you need. It's one of those products that have the finer details polished, suiting hard core racers through to street users. Consider all the information on this website… a reflection of the engineering effort put into it's design.
Super bright wide angle lights. Brightness is fully adjustable. It automatically remembers your settings from daylight through to night time.
7 Lights. Trials found it was the most you can comfortably distinguish in your peripheral vision. Any more and you loose that important reference capability (i.e. knowing your at 4 lights on corner entry, not 3).
Display range is programmable. You can set when the first light comes on and also when they all flash (For example, displaying 2850rpm to 7800rpm). This is done digitally (not by revving), so you can accurately tweak your settings.
Multiple displays modes based on driver/rider feedback. Designed to suit driver preference, different engine characteristics and various applications.
Direct factory support. Yes… we are talking real prompt tech support, often on weekends. You send us an email, you'll get a prompt response.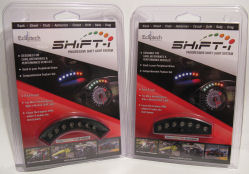 If you haven't used a progressive shift light before…
then you may not realise what you have been missing.

It's not about needing something to tell you when to shift. Adrenalin flowing, red mist setting in, distractions, competitors, multiple engine noises… a progressive shift light is where others get a jump on the pack.

You can use the Shift-I as a reference to maintain performance targets, particularly when setting speed at corner entry and getting the right line for maximum corner exiting speed. Obtaining and maintaining smooth and consistent laps times becomes increasingly important where endurance, fuel loads and tyres all play key rolls. If you have a reference for what you've done, then you have a reference maintain and improve.

Set the RPM accurately, without needing to rev the engine!

Setting the display is not something you adjust often. Some people will only do this once, others will adjust to suit different circuits. So we didn't want to increase the price and enclosure size by adding a super easy digital readout. Not necessary when we can provide this quick and neat method. It works really well!

We listened to our customers feedback to get you a refined set of display modes.

Different people, different engines, different requirements…

The lower end of the display helps with controlling staging RPM and smooth/consistant down change points (avoiding compression lockup and hitting the limiter). The mid range ideal as a performance reference and knowing how much more you have to push before the next gear change. The upper range is used for smooth and consistent gear changes. As the RPM climbs, you inherently predict and prepare for the gear change. In contrast, a traditional shift light takes away some of your concentration, waiting for it to finally flash. This generally results in a panic shift reaction.

The most popular modes are the ones shown in the animation. The high contrast mode is a favorite for drag racing, whereby the lower lights helps focus on the staging RPM, while the upper range provides a clear transition for accurate and consistent gear changes. The model with the blue/red display is often the choice for this application, as the contrast is the greatest.

Proper control of the brightness cannot be over emphasised!

A good shift indicator is suitably bright. One that is blindingly bright is impressive, but rather useless.

You can easily adjust the brightness to suit your preference. We did however go one big step more and made it adaptive to different conditions. You don't really need to understand the details, however it has a detailed point map that determines what brightness to use for the given ambient light. If you make an adjustment at dusk, it remembers, and won't change the setting you made for other lighting levels (i.e. morning/day/night)

It is one of those features that you can adjust if needed, but then forget about it because you don't have to adjust it again. It just works!

Test how your battery performs under load, such as starting the engine.

This seamless feature has been integrated into the Shift-I to conveniently show you the battery's voltage before and during engine crank.

If you are unsure if the alternator/regulator is providing power, you can use this automatic feature to test appropriate voltages are being produced. This feature is invaluable with diagnosing intermittent faults!

A faulty vehicle regulator is typically only found "after it has caused damage".

This feature sees more "thankyou" responses from motorbike owners, where such faults occur more often.

Over voltage will cause the battery to boil (permanent damage), light bulbs to fail (including headlights) and in some case electronics to fail (instruments, engine control units etc…). Having seen the results of this on many occasions, the automatic warning feature built into the Shift-I is great to have included.
The Shift-I has Superb Compatibility!
Yes it's compatible with late model cars with CANBus!
You are welcome to contact Ecliptech if you have any questions on compatibility.

For modern cars using CAN bus, you connect to an ignition output. That's a wire that goes from the ECU to one of the coil on plugs, which triggering a spark event. Manufacturers use the same methods for ignition. It doesn't matter what brand or model car it is, as it comes down to the ignition system for compatibility. Coil-on-plug technology has been the trend, which all use the same type of signal. That signal is suitable for the Shift-I to use. Also convenient to find, as the spark plug locations are usually quite accessible. You can also use a fuel injector signal.

The Shift-I has an outstanding compatibility record! The list below gives just a summary of some of the street vehicles that have been fitted. The list does not embellish by showing all the year model and release variants.
Cars Already Fitted…
| Brand | Model |
| --- | --- |
| ALPA ROMEO | 147 GTA, 75 |
| AUDI | Quattro, 80Q, A4 |
| BMW | E36, M3, E21 323i, E30, 325i, E46 M3 |
| CHEVROLET | Corvette Z06, Camaro, Camaro SS, Cavalier, Cobalt SS Turbo |
| CITROEN | Xantia Activa Turbo CT+, Saxo 1.6 |
| CLUBMANS | PRB, Westfield, Arrow, Birkin, Kestrel, Fraser, Caterham, Elfin, Leitch, Puma, Locost |
| DODGE | Dodge Viper V10 |
| DATSUN | 1600 SR20 |
| DAIHATSU | Charade GTti |
| FIAT | 131, 128SL Coupe |
| FORD | Falcon EA, EL GT, AU, BA, BF, XR6, XR6T XR8, XH, XY, MK1/2 Escort, T3 TE50, Mustang GT, Saleen Mustang, GT40, Focus SVT02, Capri Perana, F6 Typhoon, XP Coupe, Laser KF, FG XR6, BFII F6 Typhoon, GT500 Mustang |
| FORMULA | Formula 2, Formula 400, Zink Z10C, Vee, Crossle 45F |
| HOLDEN | HQ, VH, VL, VN, VP, VS, VT, VU, VX, VXSS, VY, VYII, VZ, VE, VE SS, VE GTS, WK, Torana, Gemini, Monaro, Cadillac CTS-V |
| HONDA | Civic EP3 Type R, Civic EG6, Civic CX, Civic EX, Civic LX, Civic SI, Civic EM1, Integra DC 5 Type R, Prelude BA4, NSX, EG Civic, S2000 AP1, S2000 AP2, Acura Integra Type R, Acura Integra GSR, Acura NSX |
| HYUNDAI | Lantra Rally Car, X3 |
| LEXUS | IS200, Soarer |
| LOTUS | Elise, Exige, Exige S, Elan, Esprit SE, Evora, 211 |
| MAZDA | 3, MX5, RX7, RX8, MPS 3, MPS 6, B6, Miata, TX3 |
| MITSUBISHI | Lancer Evo 2, Evo 6, Evo 7, Evo 8, Evo 9, Evo 10, Skyline R32 GTR, Skyline GTR R33, R34 GTR, Eclipse GTS, Eclipse GSX, Pajero TR4, Galant |
| MUSTANG | GT350R, Cobra |
| NISSAN | Pulsar, SR20DE, Pulsar N14 SSS, Bluebird, Silvia, 180SX, Silvia S13/14/15, Z18, 240SX, 350Z, 370Z, Z32 200SX, 300ZX, Sentra SE-R Spec V, Infiniti G35, GTR, R32 GTR, Supa 7 SR 20 DET |
| OPEL | Speedster Turbo |
| PEUGEOT | 106 Rallye, 504 Rally, 205, 206 |
| PORSCHE | 911, 944, 964, 968, 993, 994, 996, 996TT, 996C4S, 997S, Cayman, GT3, Boxster Spyder |
| RENAULT | Megane Sport |
| SUZUKI | Swift Sport, Alt0, Grand Vitara |
| SUBARU | WRX, WRX STi, Impreza, Liberty, Forester, Legacy |
| TOYOTA | Seca SX, Corolla, Sportivo, Camry, Soarer Twin Turbo, AE93 Seca SX/2ZZ-GE, 3SGE Toyota Sprinter, MR2, Hilux, Hiace, Supra RZ, Levin, 86GT |
| TRIUMPH | Vitesse, Dolomite Sprint |
| VOLVO | 242, 122S |
| VW | Golf R32, Golf R, Golf MK IV, MK V, MK VI / GTI, Corrado VR6 |
Motorbikes Already Fitted…
| Brand | Model |
| --- | --- |
| APRILLIA | Tuono 1000, SXV550, RSV1000 |
| BENELLI | 1130 TNT, TNT Sport |
| BMW | BMWR1100S |
| BUELL | S1 White Lightning, Firebolt, 1125R, XB12S, XB9R |
| CAGIVA | Vraptor |
| DUCATI | 748, 748R, 750, 750SS, 800SS, 848, 996, 998, 999, 999S, 1000S, 1000SS, Monster M900, S4RS Monster, MultiStrada 1000DS, S4RR, 1198 |
| HONDA | RS125, CBR150'07 CBR250R, CBR250RR, CB250 Hornet, NSR250, VTR250, CBR400, RVF400, CBR900, VFR400, VFR800R, CBR600F3, CBR600F4i, CBR600RR, CBR900RR, CBR929, CBR954RR, CBR1000RR, CBR1100, CB1300F, VTR250, VTR1000SP1, VTR1000SP2, VTR1000F |
| HARLEY | XL1200C Sportster, VRSCR, VRSCDX |
| HUSABERG | 650 |
| HYOSUNG | GTR650R |
| KAWASAKI | RGV250, ZZR250. ZX2R, ZXR250, ZXR400, GPZ500S, ZX6R, ZX636R, ZX6RR, ZX7R, ZX9R, GPZ900R, ZX10R, Z1000, ZRX1100, ZX12R, GPZ500S |
| KTM | KTM 950, KTM 950 SM, KTM SE 950R KTM 690 R |
| SUZUKI | FX150, GSXF250, GSXR600, GSXR750, GSXR750W, GSXR1000, GSX1100, GSX1300R Hayabusa, TLR1000, TLS1000, VTR1000, GSF650, GSF1200S, GSF1250S, M109R, TU250X, SV650, SV650S, SV1000S, RGV500, RGV250, VZR1800, VZ800, B-King |
| TRIUMPH | Daytona 600/650/675, Tiger 1050, Speed Triple 955, 955i, Thruxton 900, Street Triple R |
| YAMAHA | FZR250, FZR400, Thunderace, FZ1N, FZ6, YZF-R6, YZF-R1, XV1100, TRX850, VMax, FJ 1200 |
The Shift-I is not compatible with…
Capacitor-discharge ignition outputs, used with some 2 stroke bikes, motards and motorcross bikes
Compatability is not guaranteed for signals from mechanical distributors, as some are electrically noisy.
Bikes found not compatible: Aprilia RS125, KLX650A, KLR650, DRZ400, GT125R, GT250, CT110.
Cars found not compatible: some vehicles with old distributors.
Only 3 wires to connect! Ground, Ignition and Tacho.
The tacho input is quite flexible and can be connected to either…
5 or 12V digital tacho signals (ECU to instrument)
Electronic ignition outputs (ECU to coil, including wasted spark systems and coil on plug systems)
Fuel injector outputs (ECU to fuel injector)
Low voltage side to coils as indicated below…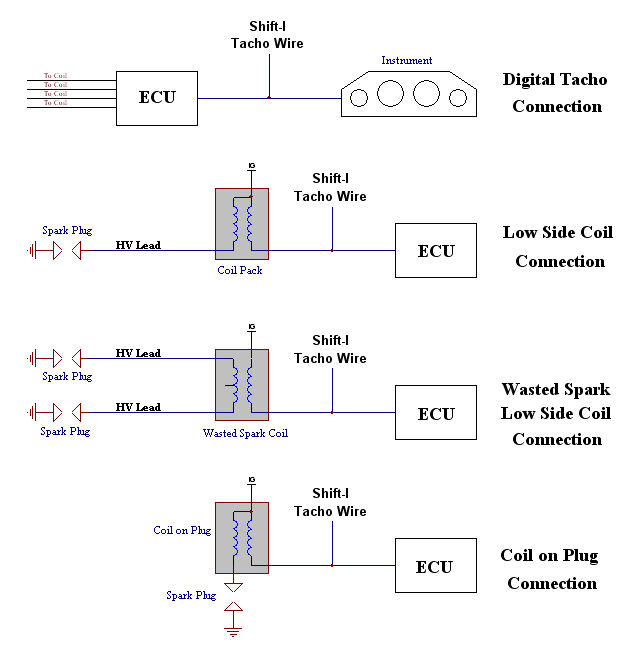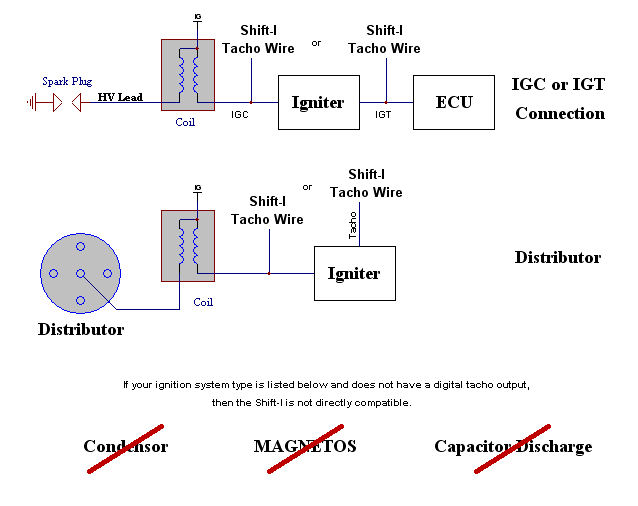 With recent model vehicles/bikes, it is becoming more common that a separate digital tacho signal is not routed to the instrument. Instead they send it via the serial CAN bus as a message. In which case, you just connect to an "ignition output". Often this is easier to find than the digital tacho signal anyway.

An ignition output is one of the wires that goes from the ECU to an ignition coil. You will have more than one of these ignition outputs, depending on the number of cylinders. The ignition coil may be integrated into the plug that connects to the spark plug (known as coil-on-plug). Find the coil and you'll see a couple of thin wires to it. One of those wires will be a positive power supply, the other an ignition output. You can either tap the tacho wire here, or back at the ECU. It doesn't matter which ignition output from which cylinder you use… which ever is most convenient. You can also connect to fuel injector outputs. If you need some extra wire to reach the ECU or coils, just ask us and we'll include an extra length for you.

Manuals
Specific Fitment Guides
Ecliptech maintains a database on wiring colours, which we expand at every opportunity. We are quite happy to provide any fitment advice we have to offer.

We really do appreciate all those people that have contacted us with more detailed information. Ecliptech have put a few specific fitment guides together, however many have been contributed by the public. Credit is always given to the author, so please feel free to send us your fitment notes. These guides are available to download below, however please use the information at your own risk.
CARS
We have wiring information for some cars… please contact us with year/model for advise.
Good wiring resources are: www.modifiedlife.com & www.the12volt.com
MOTORBIKES
We have wiring information for a lot of bikes… please contact us with year/model for advise.
How do I know if it will work on my vehicle?
The Shift-I has an impressive compatibility record. Unless you have a 2-stroke engine or Motard, it will most likely be fully compatible. Have a look at the compatibility section for a list of cars and bikes that have been fitted. The installation section covers more detail on the methods of connection. If unsure, you are welcome to contact us!
Curved or Straight Model?
Have a look in the installation section for the template that can be downloaded. You can print it to scale and compare both to your vehicle for what fits better. Typically, car owners use the straight version, as it can be placed above the steering column, bottom of instrument, top of dash or in the top corner of the dash. The curved version suits wrapping around a 90mm or 3.5″ dial gauge.
At what RPM do the lights turn on?
You can set the RPM yourself and change it to suit your engine and driving requirements. You could set the first light to turn on at 1,000rpm and the last one at 8,000rpm, or have the first turn on at 4,750rpm and the last one at 9,350rpm. You don't have to rev the engine to set these points either, in fact you can change them with the engine off. Having the ability to tweak the display range cannot be over-emphasised, as that's where you benefits kick in.
Can I have them Flash at just the Shift Point?
Yes! One of the provided display modes will flash all the lights only when you exceed your set RPM point, just like a traditional shift indicator.
Can I program when the middle 5 lights turn on?
Not specifically. They are always calculated to turn on at even intervals between the set-points, which saves a lot of headaches with setup.
Can I Turn the display off?
Yes!  Press the down button to cycle through the display modes, the last one is off. An alternative shortcut is to press either button when the RPM is above 2,200rpm. This toggles the display on and off. It is not recommended to try this while driving.
How are they mounted?
Two high performance acrylic adhesive foam pads are included, which have excellent resistance to ageing, water, most solvents and UV light. They stick really well to plastic, but not to vinyl (particularly those with protective waxes applied). They can be safely removed, however if in doubt, first test an area with a small piece in an appropriate place.
How quick does the display register the RPM?
Very very quick! The RPM measurement algorithm does not use the basic pulse counting technique, or basic frequency to voltage converters. The RPM is digitally calculated per pulse! The digital filter algorithm is biased to displaying an increase of RPM quickly and accurately, while also filtering any electrical noise. The exact time is quite dependant on the frequency of the tacho signal, however as a general figure, the display will respond to a change in RPM in less than 0.03 seconds. This level of precision and speed is what makes them an ideal visual reference for drag and motorsport racing.
How long will the Lights last?
These are top quality LEDs, and are driven well within their limits to ensure reliability. While we can say LEDs typically have an average lifetime expectancy of 100,000 hours… (11 years of continuous usage), that depends on how the electronics drives them. So a "real" reference… the product has been sold for over 3 years and not one single LED has failed.
How bright are the Lights?
Each light actually has TWO LEDs. They are quite bright and can be viewed from a wide angle!!!! Even with full sun shining on them, you can still see them clearly. They were designed to be bright enough for use on motorbikes, with a wide viewing angle. Some car drivers even reflect them off the windscreen for a heads-up display effect. The in-built light sensor however does a fantastic job of reducing the brightness when the ambient light drops off, which is adjustable.
Can I change the LEDs to a different colour?
No! It is just not a hobby kit style of product. Opening the unit will void warranty and risks permanently damaging the sensitive electronics. If you have a specific requirement, please let us know!
Is the Shift-I Waterproof?
They are designed to be "weather proof"… which means they are splash proof and suitable for use on motorbikes or open cabin vehicles. 3 years on, and we haven't received any with weather damage. One customer actually put one through a washing cycle too. The Shift-I must be mounted behind a windscreen, where it is not subjected to the wind pressure or rain.
Warranty
The Shift-I has a 24 month warranty from date of purchase, return to base. This covers manufactured defects, not damage. The initial 50 units on the waiting list were all sold Dec 2004, and 3 years later and we have only had 2 returned with faults – that's an outstanding record! The design is solid and very robust and we stand by that. We do see a few units come back from the track that have gone through the gravel traps, typically only needing a new case and wires. If you ever have a problem with one of our products, please contact us!