Twinlight Driver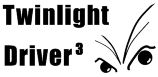 Headlight Upgrade Solution for Modern Motorbikes.
Brighter Headlights  –  Dual Appearance  –  Delayed On  –  Being Seen by Car Drivers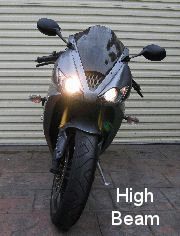 The Twinlight Driver3 provides you with…
Significant Increase in Brightness, due to the very low loss direct power feed from battery.
Appearance of having DUAL Headlights.
Increased Conspicuity using the high beam at partial power, to help those careless drivers take more notice of you.
User selectable "Daytime Running Light" and "Headlight Modulator" modes.
Chose different modes for day and/or night use (automatic switching).
Delayed on functions, easier to start engine, less bulb wear.
Powers both high and low beam, up to 80W bulbs.
Slimline small module. The wiring was specifically designed for easy installation.
Twinlight Driver3 has a lot of refined features and modes, so you can customise it to suit your preference. At the core, it does all the basics you would expect of a well refined upgrade.
        
  

These modules are very compact and slim.
At 40x40x15mm, it's not a fitment concern. They don't get hot either, so you can sit the modules next to fairings.
Bolt the terminals to the battery.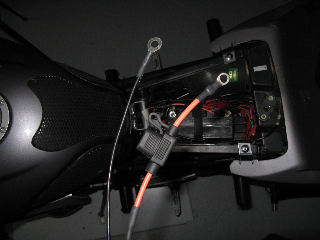 Plug the wiring in at the headlight bulbs. Black and Red wires go to the bulb. Blue wire to existing plug.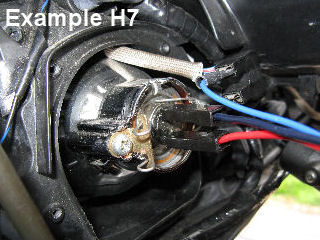 Mount the light sensor so it gets a view of the sky. Universal mounting design, small and discrete.

Installation Guides
Wiring lengths for the generic kits are shown below…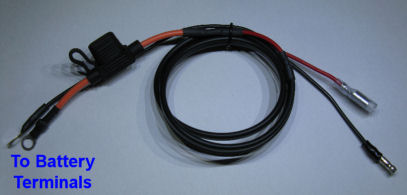 Answers to important questions you may have…
Your high beam still works like normal! Using your high beam switch will override and turn your high beam on at full power.
You can still flash your high beam. In fact, even if the high beam is running at partial power, the unit momentarily turns it off so you flash full on/off… to attract the most attention.
Any settings you make, are saved. Even if you disconnect the battery.
It doesn't draw any current when the ignition is off.
Your bike was already designed to run both headlights, so it won't flatten your battery.
You can still use a HID on the low beam, and the delayed on function will help reduce the HIDs degradation from cold cycling the bulb. Do not use this upgrade if you have a HID on the high beam.
Other info…
Solidstate driver technology, runs cool.
Capable of driving up to 80W bulbs.
HID can be used, however the high beam can not use the modulation or daytime running light functions.
Electronics are encapsulated. Waterproof design.
Light sensor has a digital filter. Uses double threshold (hysteresis loop) to determine light/dark and a shade filter to ensure reliable operation with shadows and street lighting.
Configuration
To change the mode, turn the ignition on and flash the high beam 3 times.
You can then go through all the modes by flashing the high beam to pick the brightness or modulation mode you want.
You can chose a different mode for both day and night time.
Changing other features is similar… turn ignition on and flash the high beam a number of times.
Other options you can customize…
Headlight delayed on timing, fixed time and/or with engine start. Enable courtesy mode, giving you the option to toggle the high beam mode on/off Enable the emergency high beam function, so a blown low beam doesn't catch you out.
Download PDF
French manual available on request. Manual en francés, bajo petición.
Daytime Running Light
The low beam headlight is a poor substitute for a Daytime Running Light (DRL). The high beam is far more visible.
"About two-thirds of Australian motorcycle accidents occur in daylight and 65% involve more than one vehicle." Hendtlass 1992.
Low beam (dipped beam) is designed to direct most of the light below the horizontal, towards the ground (see picture left). They do not radiate light towards other road users as a DRL should. The high beam light does radiate light that can be seen by other drivers (see picture right), however it is too bright for low light conditions.
Low beam headlight projected on to a wall from a few meters away.

  The Twinlight Driver3 can run your high beam light at a low brightness (similar to a daylight running light), making you more conspicuous to other road users. Having this adjustable is quite important, not only for oncoming traffic, but to prevent blind the road users in front of you (rear vision mirrors). The light sensor can automatically change this mode for night time use. In addition to the daylight running light mode, you can also chose a modulator mode. This can also be adjusted to various levels, from full head light modulation through to a discrete flicker. This can further enchance your noticeability.
Direct power feed from the battery.
There is no magic!
The motorbike pictured below was losing 1.5V between the battery to the low beam bulb (2.8V with high beam on). The Twinlight Driver3 reduced this loss to only 0.35V. More power to the bulb.
Low Beam
Measured brightness gain was +44%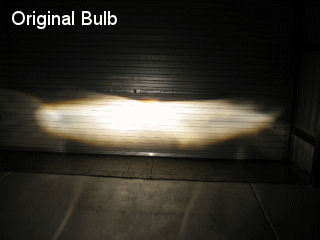 High Beam
Measured brightness gain was +67%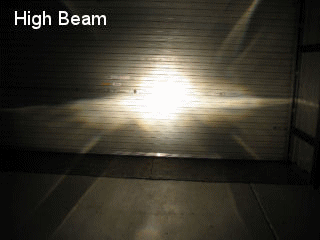 Low Beam – Philips +80% bulb
With the TL3 fitted, it provided a measured 76% increase in brightness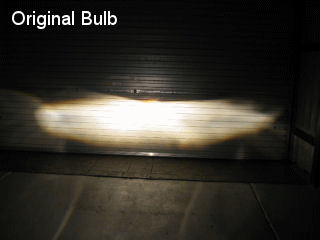 These pictures were taken with fixed aperture and exposure for comparison (0.3″, F2.8). Measurements represent the maximum brightness intensity registered using a light meter. Motorbike is a Triumph Daytona 675, using the stock OSRAM bulbs fitted on delivery, battery voltage at 13.8V.
Compared with a HID
A Twinlight Driver3 using Philips Xtreme +100% bulb in the low beam
has a HIGHER measured intensity light output than a 35W HID.
he HID was less focused and leaked more light to the immediate ground.
There is a lot about the use of aftermarket HIDs that consumers are unaware of.
They are definitely bright and you can see more, however it's not the whole story.
HIDs need to be fitted to a "projector lens" headlamp designed for a HID bulb.
If used in a reflector type headlight, the light is unfocused. It can be similar to having your highbeam on all the time, and with a higher brightness. In some cases, the more visibility you may see is a result of this unfocused light, where it is projecting a considerable amount of light higher than it should. The HID element is longer and does not project light in the same position/shape as a filament bulb. This can lead to some additional scattered light that is undesirable for other road users at night.
Distribution of Light
For motorbike riders, a big concern is where a badly focused lamp projects unnecessary light at the ground – a bright patch. During night riding, the concentration of such light can desensitize your night vision. This reduces visual acuity, both at long range and for viewing to the side. This is usually most apparent while cornering. As the motorbike leans into a corner, the headlights dip away from where you are heading. The more desensitized your vision, the less you will see into the dark corner. It can also reduce your vision for lane change head checks and rear vision use.
Although it is illegal in many countries to fit aftermarket HIDs, some of the modern projector lenses do work reasonable well. The unfortunate scenario is that once someone has spent the money on set of HIDs and spent the time to fit them, they are unlikely to remove them even if the beam projection is not the best.
Using HIDs with a Twinlight Driver3
A boost in light output for a HID is probably not expected, as the ballast module should not need the low loss wiring. The module we tested did have a minor 7% improvement, but wasn't significant. It is possible to use the Twinlight Driver3 with HIDs however the high beam cannot make use of any function that dims this light (which otherwise causes the arc to extinguish). This includes the daylight running light and modulator functions, as well as the emergency high beam mode. HID owners can have the benefit of the delayed on features. This can help avoid cold cycling the HID bulbs. Cold cycling is a term that refers to turning off a HID before it's reaches operating temperature. On many modern bikes, the headlights turn on with ignition, and off again while cranking. This turns the HID off momentarily. The metalized salts do not re-crystallize as effectively and the process results in bulb wear. This reduces the bulbs life expectancy and also reduces light output.
Compliance
The Twinlight Driver3 has some modulator modes that have been designed to comply with the regulations for Australia, US and Canada. You can review a copy of the regulations permitting the use of a headlight modulator for US, Canada and Australia here. These are also easily found on the internet. It is not known if headlight modulators can be used in other countries.
These regulations may be subject to change, so you should verify with the local authorities before using the high beam modes. It is recommended to keep a copy of these regulations handy, just in case you have an officer that isn't aware of the laws permitting their use.
It is difficult to provide any advise on the compliance of the daytime running lights modes. Although using the high beam lamp as a daytime running light is an old technique, the regulations governing the use is unclear. They are also based on absolute brightness, which is dependent on many factors. Such as the lamps optics, the bulb used and the voltage applied to the bulb. You will need to check with your local regulations before use.
Publications for those interested in reading more about DRLs.
Important Disclaimer
The information provided by Ecliptech is not legal advise. The user accepts ALL responsibility for the use and installation of this product. The product must not be used if any malfunction occurs, a suspected malfunction occurs and/or when not configured correctly. This product should not be used where it is not compliant with local laws. Such as, where the use of any high beam light may not be permitted in the presence of oncoming traffic. The product should not be configured to violate any laws. The owner is solely liable for any infringements associated with the use of the product. It is recommend to only use this product with the bulbs recommended by the manufacturer of the motorbike and within the product specifications. Only use if safe and permitted to do so and at your own risk.